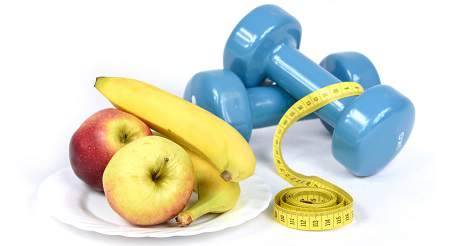 A study published in the American Journal of Clinical Nutrition looked at the effect of diet alone, exercise alone, or both diet and exercise on cardiovascular disease risk. It found that the risk reduction of cardiovascular disease of diet alone and exercise alone is not cumulative when diet and exercise are combined.
Cardiovascular disease (i.e. disease of the heart and blood vessels) includes heart attack, stroke, and other conditions that can significantly impair the quality of life or even cause death. The risk of cardiovascular disease can be reduced through weight reduction. Weight loss occurs when the amount of calories consumed is less than the amount of calories burned, which can be achieved through diet and/or exercise. Diet and exercise can also reduce the risk of cardiovascular disease in ways that are not related to weight. For example, following a diet low in sodium, which is found in salt, can lower blood pressure; increasing blood pressure is associated with an increased risk of cardiovascular disease. Studies show that lowering cardiovascular risk through weight loss by diet alone and exercise alone are similar.
A study recently published in the American Journal of Clinical Nutrition determined if weight loss through both diet and exercise combined lowered cardiovascular risk factors more than each intervention alone. This study looked at 52 overweight men and post-menopausal women between the ages of 45 and 65 years who did not have an active lifestyle. The study participants were recruited from Saint Louis, Missouri and studied between 2008 and 2015. Individuals could not participate in the study if any of the following applied: they had a condition that would not allow them to exercise or would interfere with understanding the results of the study; they used blood pressure-lowering medications; they had significant weight change or did vigorous exercise within 6 months of study enrolment. Those who qualified for the study were randomly placed into calorie restriction only, exercise only, or calorie restriction and exercise together. Food consumption was measured using food diaries and energy expenditure was measured through physical activity recall interviews. Other measurements included blood pressure, heart rate, artery stiffness, glucose, insulin, and C-reactive protein. Statistical analyses were completed.
Results showed that each intervention –exercise alone, diet alone, and exercise and diet together- has a considerable effect on blood pressure, fasting blood glucose and plasma lipids (i.e. the fats that circulate in the blood,) which all play a role in cardiovascular disease. Results also showed that the effects of exercise alone and diet alone are not additive when exercise and diet are combined.
A weakness of this study was that surrogate measurements were used instead of hard outcomes. What this means is that the study looked at risk factors instead of clinical outcomes of cardiovascular diseases, such as heart attack, stroke, and death. Another weakness was that a small number of people were studied, so that may have affected the results. The authors also point out that using a population that is able to tolerate all of the interventions is a limitation to the study because the results cannot really be applied to those who may be able to tolerate one intervention and not the other.
In summary, this study supports other studies that show similar results –weight loss reduces the risk of cardiovascular disease.
Written By: Karthi Chandrakumaran, PharmD, BSc